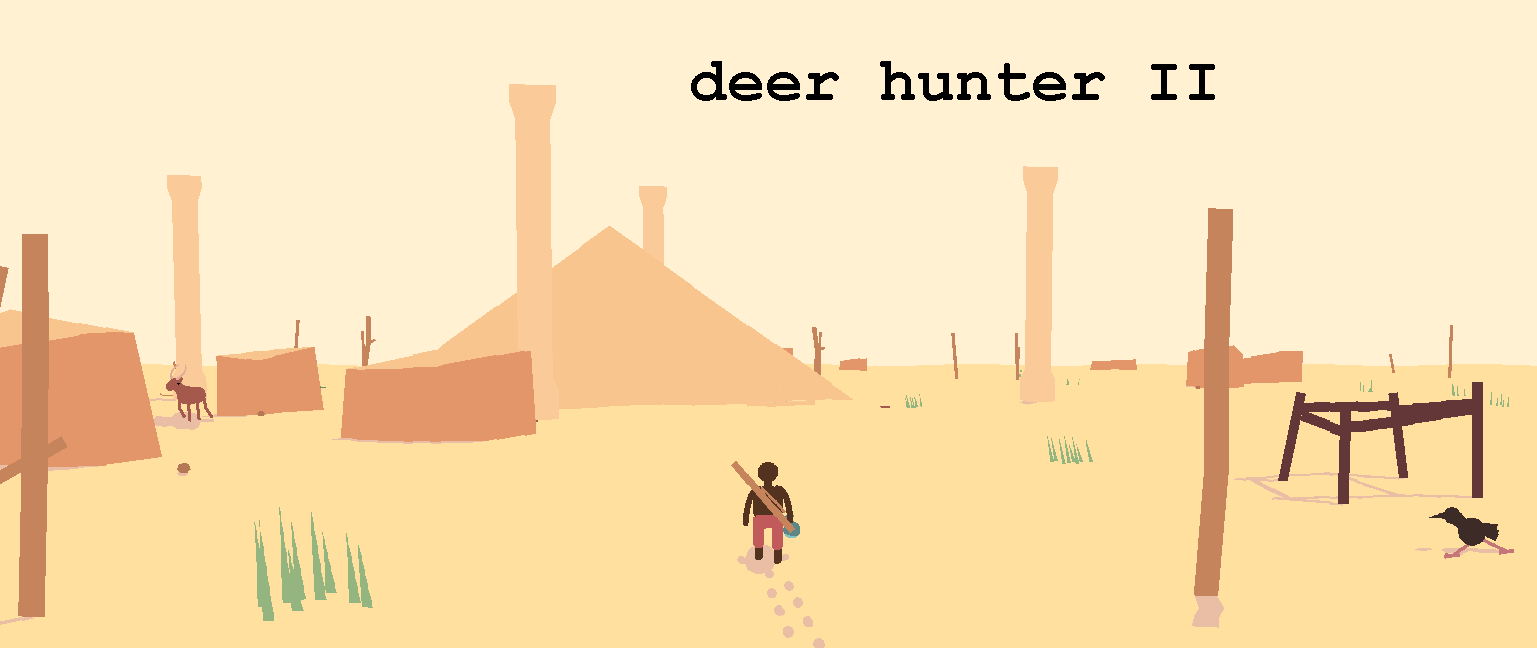 deer hunter II
A downloadable game for Windows and macOS
An archaeological survival/exploration game.
Wake up in a desert and learn to survive. Avoid exposure, snake bites and dehydration as you hunt for resources and loot corpses of those who came before you. Craft new items, discover new sights and grow stronger to take on your final challenge...
crafting system ⚒️
day-night cycle

🐫

fun combat 🏹
about 1+ hour of gameplay 🌵
find corpses and items of previous players 💀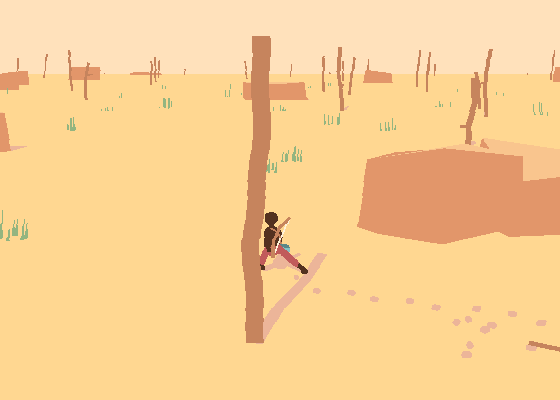 Controls
WASD - walk
LMB - use
RMB - drop
E - interact
Shift - run
Control - crouch
Escape - menu
Note: on Mac OSX, rotate the camera by dragging and use items with space bar.
(Sadly, Game Maker's mouse lock function doesn't work on Mac)
Current Sokpop Collection
Join the 3$/month Sokpop Patreon to get this game,
and our previous game Pupper Park, immediately

Purchase
In order to download this game you must purchase it at or above the minimum price of $3 USD. You will get access to the following files:
deer hunter II.app.zip
18 MB
Comments
Log in with itch.io to leave a comment.
This was nice to play. I'm not sure if this is intentional but when you go back to the skeleton after defeating him, more orbs spawn. And yes, I did try to bring every single one of them back to the pyramid to see if it did anything (still can't figure out what that does).

I just became a patron a few days ago and I'm really enjoying this one! Finally took down the skeleton, but I'm now wondering what to make of the orb. Once placed in the depression, it sounds like a crypt opens somewhere...
May I ask for pointers on how to defeat the skeleton?
rock in hole near pyramid = nope
arrows at skeleton heart = nope
arrows at skeleton head = nope
rocks at skeleton heart = can't throw that high
the 2nd one is correct. you will see the inside of the heart shrinking each time you hit it!
Hi, on the bundle... Sadly I won't buy it, due to itch.io not having a feature that stops one from buying the same game twice. I have 6 of your games already, 5 of them were the latest ones due to me being a patron, last one I bought seperate. Did the math, if I were to buy the bundle WITHOUT those games, technically based on it I should get it for $51.8. Sorry for being picky, it's not your fault really. Mainly an issue I have with Itch, one that has bothered me before.
We don't offer discounts for things you already own at the moment, but we can turn your extra purchases into gifts so you can give them to others.
Tell me if you're interested.
Looks wonderful, but wheen I play it on my Mac the camera keeps spinning, it seems like it's remembering the last mouse input but thats just a guess.
Hi, so apparently Game Maker's function to lock the mouse position doesn't work on the newer versions of OSX (our machine is on High Sierra and it works there).
As a temporary fix, I've now uploaded a version (1.0.1) for Max OSX that uses drag controls to rotate the camera, and the space bar to use items.
Will look into a better solution in the future, but at least it's playable now!