Uniseas
A downloadable game for Windows and macOS
Uniseas is a real-time strategy game about pirates.

You play as a newcomer, eager to dominate the new world.
You capture islands, raising new homes and shipyards. You build small boatsfor trading and big ships for taking over more islands!
However, you are not the only one with big dreams. Your ambitions are contested by 3 other pirate captains:



Your relationship with each of them can influence your chances greatly. Once one of them becomes fully hostile towards you, the captain will come out with their flagship and attacks you. Defeat this boat and they will be wiped out!
You will need to defeat each one of them to win the game.
Controls & hotkeys
- ASWD / Arrow keys : move camera
- Q+E : rotate camera
- mouse scroll wheel : zoom
- TAB : select next boat
- left mouse button : select boat / move here / attack boat / select dock
- right mouse button : deselect
- other keyboard keys : next tutorial dialogue
Character portraits design by Céline Veltman (@CelineVeltman)

made for the Sokpop Patreon

Windows - Shader error? / only see a black screen / other graphical issues?
You probably don't have DirectX yet or you are missing a driver either way. You can download the necessary driver for free with this link: https://www.microsoft.com/en-us/download/details.aspx?displaylang=en&id=35
If this does not fix it, try downloading and running the "sok-stories installer". This should automatically install the necessary drivers and fix all Game Maker games in the future.
Mac OS X - Unable to find game?
This is an issue we're having with OS X. Move the game to a different folder and then run the game again. This usually fixes it!
Purchase
In order to download this game you must purchase it at or above the minimum price of $3 USD. You will get access to the following files:
Uniseas_v1.0.3.exe.zip
38 MB
Uniseas_v1.0.3(macosx).zip
46 MB
Comments
Log in with itch.io to leave a comment.
How do you quit the game? I always need to go to the task manager...
Whenever I'm getting things going it seems to crash with this error :/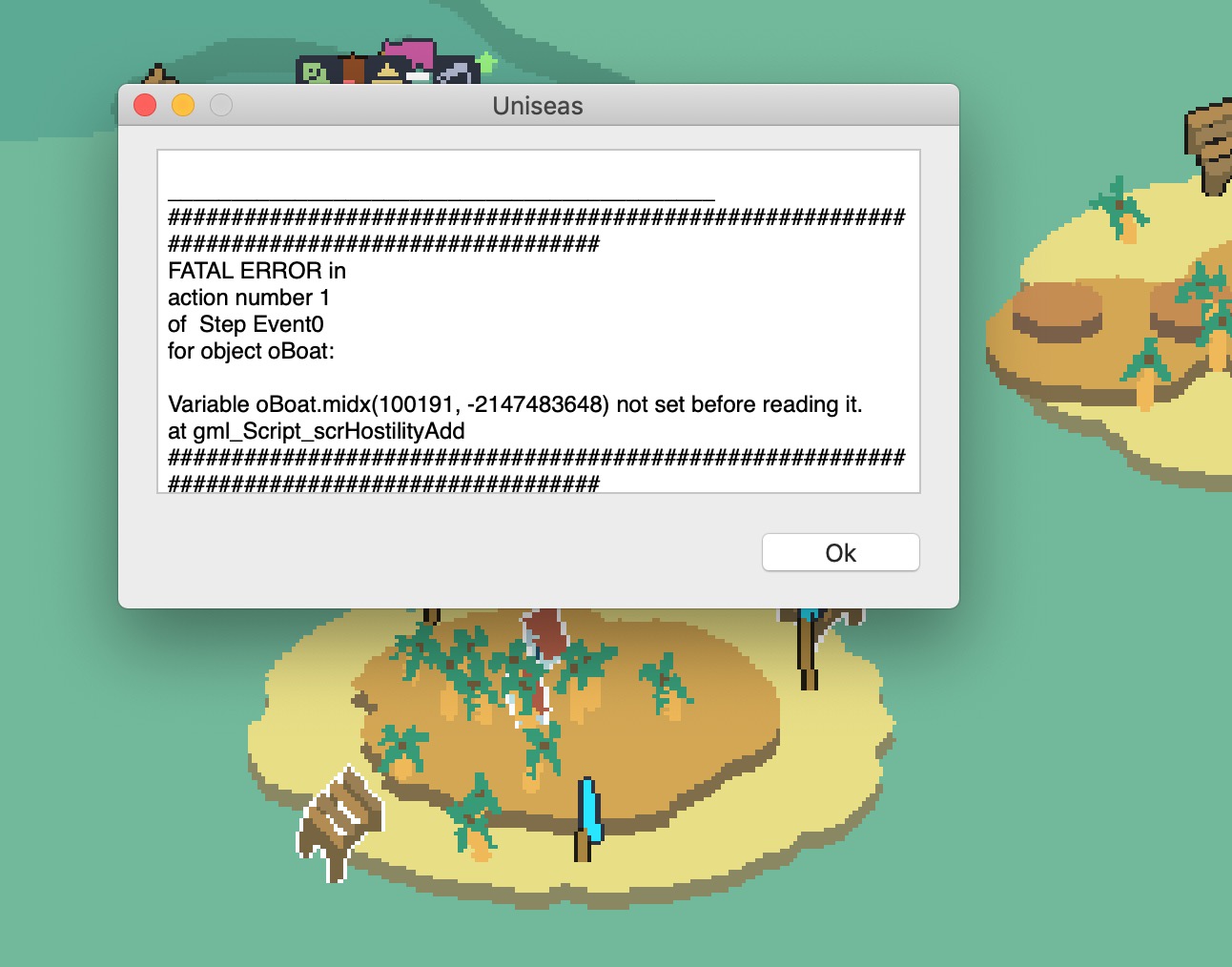 will this game come to steam and will i get a key later on if i buy it ?
What game engine is this using? Reminds me of unity.
I need GNU/Linux version. If you already have a version for MacOs, please launch one for GNU/Linux.
Although I also would like that, the shaders don't work properly (at least for some games) as I got one of them to build a linux version of an earlier game. It was unplayable. Might've been something on my end but even then I understand its too much work for them.